Mission
The Research Bureau serves the public interest of Greater Worcester by conducting independent, non-partisan research and analysis of public policy issues to promote informed public debate and decision-making.
History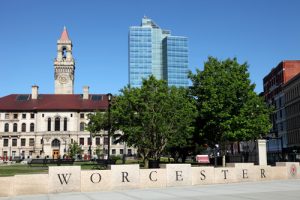 In the early 1980s, as the City of Worcester and surrounding communities struggled with the budget constraints of newly passed Proposition 2½, Worcester's business leaders came together to support the establishment of an organization to conduct independent, non-partisan public policy research and to assist Worcester's City Manager with recommendations for more effective municipal government.  Modeled on the Boston Municipal Research Bureau established in 1932, the Worcester Municipal Research Bureau began in 1985 with pledges of $40,000 and a commitment from Assumption College to house the new organization at a cost of $1.00 per year. 
The Research Bureau grew in size and stature over the years.  In the late 1980s, concerned about the consolidation of banks and the acquisition of local businesses by national and multinational companies, The Research Bureau's Board established the Francis A. Harrington fund, maintained by the Greater Worcester Community Foundation, to ensure continued support for the public forums initiated during the first year of operations.  In 1987, when Tom Green, former Vice President of Norton Company and a founder of the organization, passed away, The Research Bureau honored his memory by establishing the Thomas S. Green Public Service Awards for outstanding public service by municipal employees. Through this annual award series, The Research Bureau has recognized the distinguished service of over 100 "unsung heroes" of municipal government.
In 2000, the Board voted to change the name of the organization to The Worcester Regional Research Bureau, in acknowledgement of its broader importance to Central Massachusetts communities. 
Many publications have covered our research, including the New York Times, Huffington Post, Worcester Telegram & Gazette, Worcester Business Journal, MassLive, Boston Globe, Commonwealth Magazine, Governing Magazine, and more. The Research Bureau's work has been recognized by the Greater Worcester Regional Chamber of Commerce, the Governmental Research Association, and the Pioneer Institute's Better Government Competition.