Support Independent Research and Analysis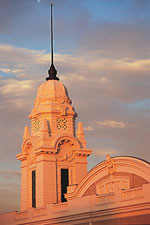 The Research Bureau is a private, non-profit organization that conducts independent research and analysis of public policy issues facing Greater Worcester. Our mission is to promote informed public debate and decision-making in the City of Worcester and surrounding communities. Our reports provide real-time and longitudinal data on issues of public concern and explore nationwide best practices. Our forums bring experts together with civic leaders and other interested parties to explore the administrative, financial, and community issues facing Greater Worcester's municipalities.
The Research Bureau was founded in 1985 by members of the Greater Worcester business community. Today, local and regional businesses continue to provide critical financial support for our efforts. Foundations and contributions from generous individuals, including our 90-member Board of Directors, make up the rest of our annual budget.
Please show your support for good governance and informed public policy in Greater Worcester. Help The Research Bureau continue its critical role by contributing today.
Donate with: