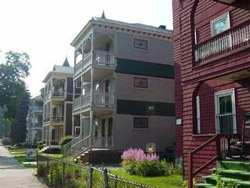 In 2001, The Research Bureau established the Center for Community Performance Measurement (CCPM) with a grant from the Alfred P. Sloan Foundation to benchmark municipal and community performance in Worcester for the five goals of Worcester's strategic plan: to improve economic development, municipal and neighborhood services, public education, public safety, and youth services.
Since the physical condition of neighborhoods has a serious impact on residents' quality of life and on the perception of visitors to the City, ComNET, or Computerized Neighborhood Environment Tracking, is a tool used to measure the effectiveness of municipal services that affect the infrastructure and appearance of neighborhoods including the streets, sidewalks, refuse, abandoned vehicles, buildings, and vegetation. The CCPM adapted the ComNET program, originally developed by the Fund for the City of New York's Center on Municipal Government Performance, for the City of Worcester. In collaboration with neighborhood associations across the City, the CCPM has trained over 100 resident volunteers in 14 of Worcester's most economically – and socially-challenged neighborhoods over the past 7 years to use handheld computers and digital cameras to systematically record various physical problems.
During the survey, neighborhood residents are paired with Holy Cross and South High students to walk predetermined routes through each neighborhood and record the exact location of the physical problems and assets in the area. The information is then compiled and transmitted to the municipal departments and organizations that are responsible for addressing these problems. The survey is repeated on a regular basis to track the problems that were recorded in previous surveys and thus determine whether the overall physical condition of neighborhoods is improving.
Citywide Results:
As of December 2008, The Research Bureau has partnered with residents and students to conduct 59 surveys in neighborhoods throughout the City. The surveys cover 180 street miles, and the neighborhoods surveyed are home to about 1/3 of the City's population (55,000 residents). Some of our findings include:
More than 13,000 total problem conditions have been identified since 2001
About 7 out of 10 previously recorded problems have been resolved
What types of problems are most widely documented? 3

35% are sidewalk-related issues (trip hazards, cracks, etc.)
20% are street-related issues (potholes, dirt/sand, unevenness)
17% are sites with litter
12% are locations with overgrown weeds/ vegetation

Who's responsible for these problems?

61% Department of Public Works & Parks
24% the Community
13% Division of Code Enforcement
Neighborhood Results (as of December 2008):
Bell Hill
Unresolved Problems
Results Summary
Brittan Square
Unresolved Problems
Results Summary
Brown Square
Unresolved Problems
Results Summary
College Hill
Unresolved Problems
Results Summary
Columbus Park
Unresolved Problems
Results Summary
Crown Hill/Elm Park
Unresolved Problems – Crown Hill
Unresolved Problems – Elm Park
Results Summary
Crystal Park
Unresolved Problems
Results Summary
Downtown
Unresolved Problems
Results Summary
Green Island
Unresolved Problems
Results Summary
Main Middle
Unresolved Problems
Results Summary
Quinsigamond Village
Unresolved Problems – Quinsigamond Village
Unresolved Problems – Quinsigamond Village South
Results Summary
South Worcester
Unresolved Problems
Results Summary
Union Hill